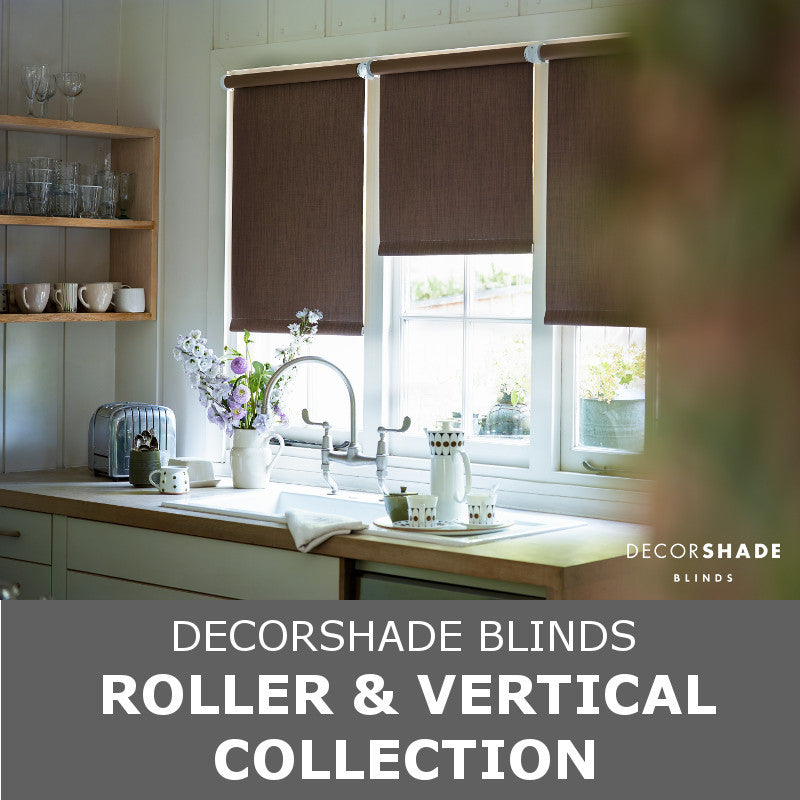 Decorshade Blinds - Roller and Vertical Collection
The Roller and Vertical Collection of Decorshade Blinds contains a stunning array of well over 200 Roller and Vertical blinds to choose from depending on the type, function, fabric, pattern, effect and colour and finish you desire :
Roller Blinds
Over 100 roller blinds to choose from including Natural Tones, Natural Weave, Plain Colours, Screen, Blackout, Luxe, Contemporary, Botanical, Striped, Little People (especially designed for childrens' playrooms or bedrooms) and Performance.
Natural Tones
Natural Weave
Screen
Blackout
Luxe
Contemporary
Botanical
Striped
Little People
Roller Blind Finishing Options
Decorshade offer a number of different options to tailor the Roller Blinds to the desired finish including choice of :
Tassels - Standard or Premium
Scalloped Shaped Options
Castellation Shaped Options
Braid Shades
Straight End Options
Wrapped Bottom Bar
Silver Aluminium Bottom Bar
Round Aluminium Bottom Bar
Slat Bottom Bar
Wooden Bottom Bar

Turret Bars (for Castellation Finish only)
Vertical Blinds
Over 100 vertical blinds to choose from depending on the function, fabric, pattern, effect and colour you desire.
For vertical blinds where moisture is likely to build up the Screen range is a great choice and if you also wish to eliminate as much light as possible the Stoplite, Samba, Tessa and Galaxy ranges are also "Blackout" fabrics
For vertical blinds that are to be used where there is an increased risk of fire the special Flame Retardant fabric blinds are designed to give an extra level of safety to help prevent fire spreading.
For white or lightly coloured patterned and textured fabrics for vertical blinds there are many options including River, Chenille, Penthouse, Vincent, Cornwall, Aurora, Classique, Weavetex, Meteor, Hudson, Morse and Polylinen.
For plain coloured smoother fabrics for vertical blinds the Capri and Rustica material range provides several options. Capri is available in Red, Navy Blue, Sky Blue, Black, Pink, Grey and Graphite. If you are looking for black, brown or beige vertical blind try the Rustica Espresso or Rustica Latte.
Blackout Blinds
Both Vertical and Roller Blinds are available with many Blackout material options. All colours across the Capri range (Red, Cobalt Blue, Sky Blue, White, Ivory, Cream, Pink, Graphite and Grey.
Skylight Blinds Range (suitable for Velux)
Decorshade also produce a total blackout Skylight Blinds range that is suitable for use on Velux and Fakro skylight windows.
Available in White, Cream, Navy, Red, Brown and Black Blackout fabrics
Suitable for Velux and Fakro Skylight Windows
2m and 3m Extenstion Poles available
Brush and rubber strip sealing system
Anodised silver side channels
Child safe cord free system
4 screw installation
Fabric shield fitted
Call us to find out more or drop in to our showroom in Portlaoise.
---
---
More from this collection