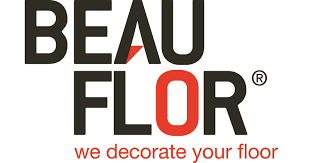 Beau Flor Cushion Vinyl
"Our beautiful and seamless cushion vinyl rolls are the way to go if you're looking for an easy installation, great value for money and a waterproof flooring solution. With widths varying from 2 to 5 metres, this is the most accessible flooring solution."
Beau Flor vinyl flooring is one of the best known vinyl floor manufacturers in Europe. It is part of the Beaulieu Flooring Group. At Centrepoint Carpets we have a wide array of the most popular Beau Flor vinyl products under the Tex, Power and Comfort collections including Tile Effect, Timber Effect, Patterned and Plain.
Current ranges we have access to, showing available widths include :
Beau Flor - Bartoli  (3m or 4m)

Beau Flor - Funk (4m)


Beau Flor - Juteks SafeTex (2m, 3m or 4m)

Beau Flor - Marathon (4m)


Beau Flor - Pietro (4m or 5m)

Beau Flor - Smartex (4m)


Beau Flor - Ultragrip (4m) - Contract Use
Vinyl ranges are available in 2, 3, 4 or 5m widths depending on the product, and come with a variety of warranties from 5 years to lifetime. You should also consider the thickness and wear layer of the vinyl. These vary across the ranges.
Why choose Beau Flor cushion vinyl?....
Natural wood & tile looks

Whether you love the warmth and cosy aspect of wood, or you're fond of the boldness and character of tiles, give your interior the classic look of wood or tile without the disadvantages of natural materials. With cushion vinyl rolls, you can produce any imaginable design and colour; from the most natural wood or tile to the most extravagant and inspirational texture.

Super silent floor

Whether you are walking around in your high-heels or feel like having a lazy day in your slippers, our cushion vinyl absorbs noise so well that it is up to 50% more silent than comparable floors! This makes them the ideal flooring solution for apartments or other spaces where noise absorption is very important.

100% waterproof

Looking for a floor that can stand up to wet and dirty shoes or paws? Or do your children sometimes turn your bathroom into a swimming pool? Then our cushion vinyl rolls are just what you need. Our cushion vinyl is 100% waterproof, making it ideal to install in your bathroom, kitchen or any other room.

Low maintenance

Our cushion vinyl rolls are very low-maintenance. Thanks to an optional protective polyurethane lacquer, the floor is easy to clean and protects it against daily wear and tear. All it needs is an occasional sweep with a wet mop and standard cleaning products.

Extreme durability

Cushion vinyl floors are protected by a very hard wearing surface. The resistance of vinyl to staining and general household use is one of the key benefits of vinyl floors and makes them one of the most durable types of floorings on the market.

Comfort & warm touch

The cushioned nature of cushion vinyl floors make them a pleasure to walk upon, they feel warm to the touch and are ideal for barefoot walking. Moreover, the good heat conduction of our vinyl floors make them the ideal match for your floor heating.

Easy on the pocket

Cushion vinyl rolls are less expensive to produce than other floorings, making them easier on the pocket.                                      


                                                                                .....source www.hardlyfloors.ie
---
---
More from this collection